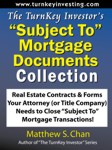 Real Estate Contracts & Forms Your Attorney (or Title Company) Needs to Close "Subject To" Mortgage Transactions!
This one-of-a-kind Manual includes essential baseline documents real estate investors need to close "Subject To" Mortgage transactions. These powerful, specially-written documents are recently enhanced versions of the ones used and implemented in the field by the Author.
These easy-to-use and customizable documents are designed to give the real estate investor the highest credibility, integrity, and confidence to any closing.
FSBO Information Sheet
Authorization to Release Information
Purchase & Sales Agreement (Customized)
Warranty Deed (Display purposes only)
Limited Power of Attorney
Compliance Agreement
Real Estate Purchase Addendum & Disclosure Statement
HUD-1 Settlement Statement
Notice to Lender / Mortgage Company
Notice to Insurance Company
Request for Insurance Quote
Loan Reinstatement Letter
Closing (Settlement) Instructions for Attorney or Title Company
BONUS: Deal Analysis Worksheet
A CD-ROM with Microsoft Word-compatible files and MP3 Audio Commentary is included with this extremely valuable package. Additionally, one-year of free updates is provided through the publisher.
=====
Spiral-bound Manual & CD-ROM
(60 pages)
ISBN 1-933723-10-6
$299.00 USA
Special Limited-Time Discount: $149.00 USA
---
FREE Book Excerpt (Download PDF Here)
Title page, Copyright page, Table of Contents, Introduction
======