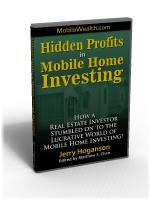 "Warren Buffett Knows the Secrets of Mobile Home Profits!"
In this Audio Program, you will learn from Jerry about the amazingly profitable business and hear him share his personal story that includes details of actual transactions he has done. He will lead you around pitfalls he has encountered so you won't have to make the same mistakes he made!
You will learn:
How to maximize profits
Which mobile homes are the money makers
Finding the right community to invest in
Management ideas
How to negotiate the purchase
And much more!
"It was just by chance that I discovered the lucrative world of mobile home investing!" — Jerry Hoganson
From the Publisher
This Introductory Audio Program describes how the author several years ago, seeking more profits and opportunity in a slow-moving market, moved from being a real estate investor into a mobile home and mobile home park investor. He explains why he prefers mobile homes and mobile home parks over single-family home real estate investing.
======
CD Audio Program
(46-minutes)
ISBN 1-933723-04-1
=======