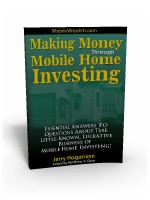 "Discover the Little-Known Niche of Mobile Home Investing"
Within every real estate market, there are entire communities of mobile homes. Thousands of people live within these mobile home communities but very few people know the investors who own them.
Why do investors own and invest in mobile homes? Niche investors own mobile homes and mobile home communities because they are lucrative and extremely profitable investments. Mobile homes are investments that most real estate investors routinely misunderstand and ignore. It is a market niche where most within the industry do not want to openly discuss or share.
There are many myths and misconceptions of mobile home investing. Contrary to popular opinion, mobile home investing is often simpler and easier to get into than conventional real estate investing. It can also be much more profitable and provide a higher return on your investment.
Discover the world of mobile home investing. Learn what most real estate investors will never learn in a lifetime of house investing. Learn from someone who first started out as a real estate investor, then moved into mobile home investing, then ultimately mobile home park investing.
Read the insightful and enlightening answers to questions so many people ask regarding the mysterious world of mobile home investing.
 In this book, Jerry answers common questions on these areas of mobile home investing:
Basic Concepts
Market Research
Finding Deals
Profit Strategies
Purchase & Financing
Inspections
Marketing
Preparation Process
Management Issues
Tenant Management
Maintenance/Repairs
======
(120 pages)
ISBN 978-1-933723-13-6
---
FREE Book Excerpt (Download PDF Here)
Title page, Copyright page, Dedication, Table of Contents, Introduction, Chapter 1
======