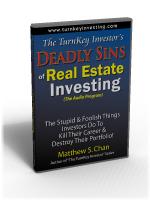 "AVOID THE DEADLY SINS REAL ESTATE INVESTORS COMMIT THAT KILL THEIR CAREERS!"
For every successful real estate investor, there lies countless losers and casualties of an investment career gone terribly wrong.  No matter how much success they may have had, these investors commit deadly (and sometimes unforgivable) investing sins that end their careers and ultimately destroy the very investment portfolios they were building and holding.
Real estate is often forgiving of minor mistakes investors occasionally make.  However, there is a difference between making mistakes and committing the Deadly Sins of Real Estate Investing.
Whether you are a beginning or experienced real estate investor, you must know the deadly investing sins to absolutely avoid.  Too many real estate investors have learned these tough life lessons by becoming a financial casualty.
"DON'T BECOME A FINANCIAL CASUALTY!"
It does not have to happen to you if you know where the lethal pitfalls are!  This Audio Program will give you a jump-start to avoid committing the deadly sins that have crippled and destroyed the investment careers and portfolios of countless beginning and experienced investors.
=====
CD Audio Program
(60-minutes)
ISBN 1-933723-11-4
---
======