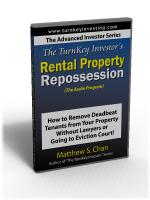 "LEARN THE SECRETS OF REMOVING DEADBEAT TENANTS WITHOUT EVICTION COURT!"
Every real estate investor or landlord who manages rental property will one day deal with a "problem tenant".  A "problem tenant" becomes a deadbeat tenant when he either doesn't maintain the property or simply stops paying rent.  Conventional wisdom says the only way to get rid of deadbeat tenants is to initiate the eviction process through the local court system.  Unfortunately, evictions often cost time, energy, and money.
What if you could simply bypass the eviction process, lawyers, and the court system and have tenants move out quickly and legally?
Cynical and closed-minded landlords say it cannot be done.  And yet, the Author created a simple, proven system that does exactly that!  He knows how to remove deadbeat tenants from his rental properties without having to deal with lawyers or eviction court!  In this special Audio Program, the Author describes the property repossession system he uses that eliminates up to 80% of the evictions he used to do!
SPECIAL BONUSES INCLUDED!
* BONUS #1:  A copy of the special legal form he uses to remove tenants and repossess properties is enclosed!
* BONUS #2:  The special presentation, "How to Collect Lost Rents & Bad Debts" explains how the Author recovers thousands of dollars of "lost" rents and "bad" debts with little work on his part through collection agencies.
======
CD Audio Program
(73-minutes)
ISBN 1-933723-02-6
======
======