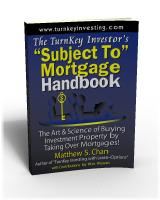 "IMAGINE BUYING INVESTMENT PROPERTY WITHOUT QUALIFYING FOR MORTGAGES!"
The most common obstacle for any investor wanting to buy investment property is getting financing. Bankers say if you want to buy investment property, the only way you can finance it is to have a large down payment and qualify for a mortgage. But that is only one way of buying property… THE HARD WAY!
Another way of buying investment property is to have sellers call you and provide you with financing that you do not have to qualify for!
This exciting way of acquiring investment property uses an uncommonly used seller-financing technique known as the "subject to" mortgage. Instead of qualifying for new mortgages, you will learn how to buy investment property by safely and legally taking over existing mortgages!
This one-of-a-kind handbook will teach you the art and science of buying investment property from qualified sellers using "subject to" mortgage financing.
"WHAT YOUR MORTGAGE BROKER WILL NEVER TELL YOU!"
You will learn how to:
Safely use "subject to" mortgages to buy investment property!
Legally take over and manage other people's mortgages!
Find qualified sellers to call you to buy their property!
Respond to sellers' questions to develop rapport and earn their trust!
Analyze and determine which deals are best for a "subject to" deal!
Set up "subject to" closings so that they are fully accepted in your area!
The TurnKey Investor's "Subject To" Mortgage Handbook is a real estate finance book like no other. It goes against what the traditional lending and financial communities teach and is sure to upset the establishment. This book is only for independent-minded investors who want to learn how to take control of their real estate financing and investment portfolio, not for blind followers of "banker's rules".
=====
(236 pages)
ISBN 0-9713947-4-1
======
Title page, Copyright page, Dedication, Table of Contents, Introduction, Chapter 1
======
=======